Glass tube heater for refrigerator defrost heater
glass tube heater refrigerator Defrost Heater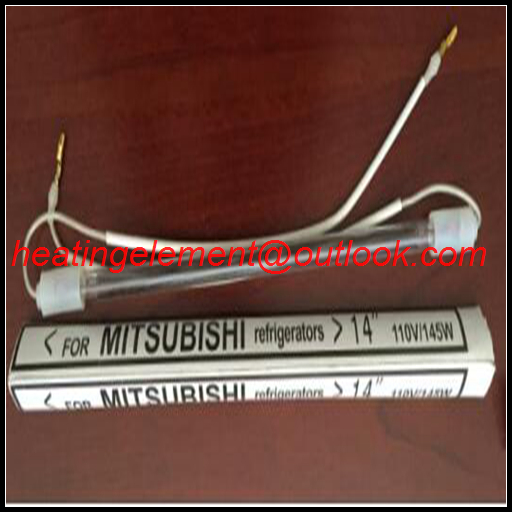 Configuration
It is coiled as spring strip used resistance wire,inset it into glass tube,the both sides of glass tube are made of heat resistant material,connect lead wire to resistance wire in the head.
Applications
Quartz glass tube heaters are mainly used in refrigeration and microwave ovens.Catalysis deodorizing glass tube heater attached peculiar smell will be catalyzed and oxidized to carbon dioxide and water,therefore,get the effect of deodorization.
Technical data

| | |
| --- | --- |
| Type | Quartz glass tube heater |
| Dimension & Geometric Shape | According to your demand |
| Output | Up to 300W or customize as your demand |
| Voltage | Any voltage on request |
| Tolerance on resistance | ≤ ±5% |
| Withstand break strength of glass tube | ≥49N/150mm |
Tape
RBG1:transparent glass tube
RBG2:two-double vacuum glass tube
RBG3:Two-double transparent glass tube
The above are small power ones for defrosing in refrigerator.
With the power range 100W~300W,they are airproofed on the ends with rubber.
RBG4:Barbecuing tube
The heater is cooking heat source in the microwave oven.Generally 2 pcs as one suite in series and the power of single tube is 400W~600W.Bigger surface load and higher radiating coefficient make the microwave cooking food more quickly.